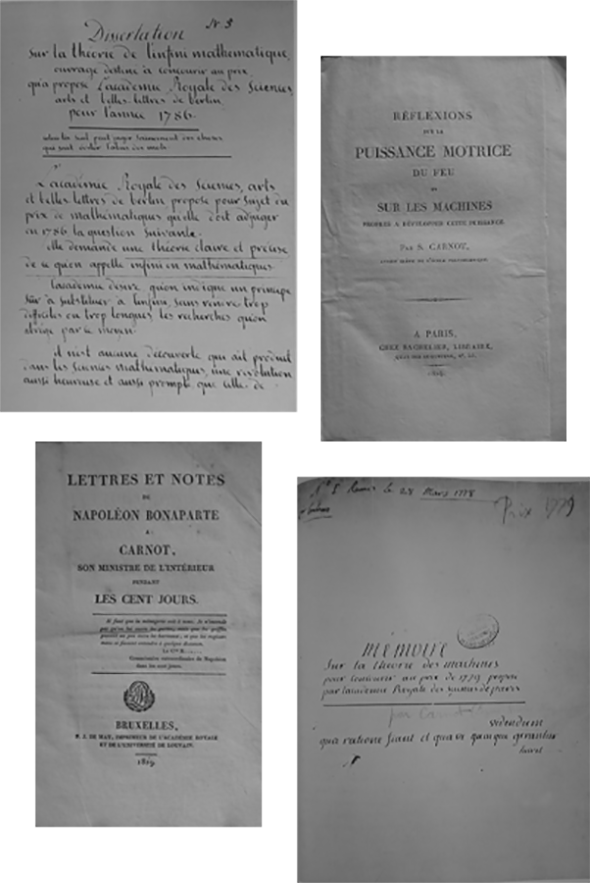 Collection of archival documents concerning the history of Lazare Carnot (1753-1823, known as « The Organizer of the Victory»), his son Hippolyte Carnot (1801-1892, Minister of Public Instruction), his grandson Sadi Carnot (1837-1894, President of the Republic), Ernest Carnot (1866-1955, industrialist) and their family and descendants.
This collection of documents was assembled and archived by Lazare Carnot (1903-1990). In 2005, it was given to the Académie François Bourdon by Gaëtan Carnot.
The collection includes family, political and professional  correspondence , manuscripts, printed documents and biographical notes. An important bibliography and an inventory of the statues and portraits dedicated to renowned members of the Carnot family have been added to the collection. In addition, there is an extensive genealogical documentation.
File database (505 entries) : Includes handwritten and printed documents, family trees, newspaper articles, announcements, and correspondence. Dates of documents: 1638-1990.
Iconographic database (462 entries): Describes the 2900 photographs of the collection.  Dates of photographs : 1889- around 1990.
Monographs database  (982 entries) : Analysis of the books. Dates of books: 1693-2001.
Périodical database (114 entries) : Describes the newspapers and reviews. Dates of periodicals : 1786-1989.
Objects database (23 entries) : Décrit les quelques objets retrouvés dans les archives : pochettes, pièces de tissu, médailles, … . Dates : fin XIXe siècle
Describes the few objects contained in the archives. Handkerchiefs, pieces of fabric, medals. Dates : Late 19th Century.
These archives are open to the public but viewing permission must be granted. To obtain authorization, please send an email request to the Académie François Bourdon.