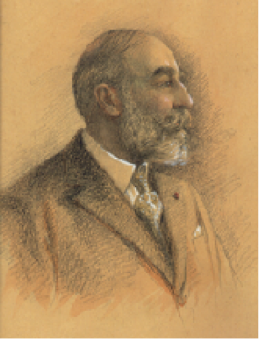 (Annecy, 26 December 1866 – Paris, 15 January 1955)
Second son of the President of the French Republic, Sadi Carnot.
Graduating as a Civil Engineer of Mines and with a Bachelor of Law, Ernest Carnot became an entrepreneurial and influential businessman. He occupied a dominant position in the synthetic textiles industry. In 1903, he founded the Viscose Française for which he created subsidiaries or sister companies in Switzerland, Spain, Italy and Belgium. He also created Cellophane in 1913, which he managed until 1930. He presided over the Société de Participation de Rayonne from 1905 to 1922. He managed the Compagnie des Transports Océaniques, the Compagnie Seine et Rhône, the Messageries Maritimes, the Compagnie Asiatique et Africaine, the Société Coloniale de Bambas and the Compagnie Tunisienne des Phosphates du Djebel-Mdilla. He was one of the hundred-and-twenty-one largest individual shareholders of the Banque de France before the Popular Front (1936). He was also one of the founders of the Mines de Spassky and served as president of the Grande Comore. 
For the first time in the history of the Republic, four generations of one family succeeded each other in the National Assembly. Elected Deputy of the Côte-d'Or, Ernest Carnot sat in the Assembly from only 1895 to 1898. In 1895, he was also elected General Counselor of the Canton of Nolay and in 1901 he gave up his seat in the Departmental Assembly of the Côte-d'Or.